Frequently Asked Questions
Artwork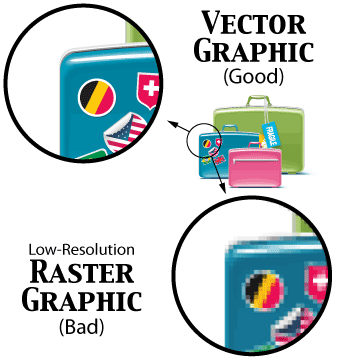 What Kind of Artwork should I send?
Ideally you should send Camera-Ready Art, which refers to artwork that is ready to be printed as-is without any further modifications. Generally this art is vector-based, and created by professional software designed to produce smooth, non-pixelated graphics. It is often denoted by a .EPS, .AI or .PDF file type. If you don't have a vector file, some pixel-based (or raster-based) images are high enough resolution to be traced with minimal loss of quality. However, when dealing with licensed logos and graphics, it is not recommended to trace pixel-based images as it can alter the artwork significantly. Usually there is not an additional charge for us to convert something for you or manipulate what you already have to be printable. Custom designs and artwork from scratch are subject to an additional art fee. Don't hesitate to call our customer service team directly if you have any additional questions about artwork.
Where should I send my artwork?
Our website is designed so that you can upload files or provide written text at the time you place your order. However, you can always email us your artwork to customerservice@campusmarketing.com. Please make sure that the subject line of your email references your order and include your contact information in the email as well to be sure that we can reach you should we have any further questions
How long does it take for Custom Artwork?
Depending on the scope of what we are designing, artwork can often times take as little as several hours to a few days. Our goal is to design something for you as quickly as possible in order to still meet your timeline.
Are you able to design a logo or brochure for us?
Absolutely! Our art department is staffed with creative and talented artists who will make you look great! We've worked with many customers to design brochures, logos, catalogs, flyers, posters, etc. Our customer service team will help you move forward with a project like this should you be interested.
How do I know if the artwork/logo that I sent you will look good on the product that I'm ordering?
Once we receive your order and artwork, our art staff will send you either an electronic or faxed proof for you to approve. While you won't see an actual sample product, you will be able to make sure that the imprint will look like what you had intended it to look like. And if for any reason we don't think what you ordered will look good, our customer service team will contact you directly to give you some guidance about how to make it look appropriate.
Ordering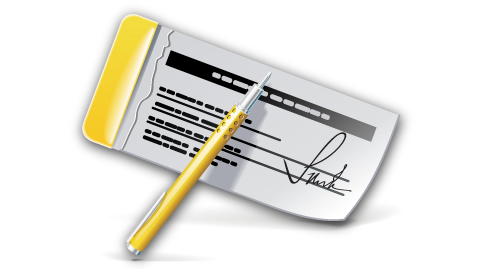 How do I know the best item to order for my promotion or event?
There are over 30,000 items available for you to imprint. Our customer service team can help you locate the perfect item for your give-away. Whether it's something for a specific theme or an item to stay within a designated budget, we're happy to give you the individual attention you need to find the right item. Call us at 1-800-795-4267 and ask for customer service.
Is there a minimum order size?
Most of the products on our website have the minimum quantities already listed there and are designated by the first quantity listed in the price grid. However, for some products, we are able to print less than that with a one-time Less Than Minimum fee added to your order. The ability to do this varies from product to product as does the Absolute Minimum for each product. Please contact customer service with any special requests regarding a Less than Minimum order.
Can I order merchandise without an imprint?
Absolutely! All of our products can be ordered without an imprint. Just select NONE when asked what imprint color you'd like and we'll ship your items to you unimprinted. You will also not be charged a screen charge which is normally associated with imprinted goods.
Will I receive a discount for a large quantity order?
Our price grid is designed to pass along savings to you as you order larger quantities. If you need a quote for a very large quantity, our customer service team will be happy to provide you a special quote on that specific quantity.
I saw a product that I liked on another Web site; can I get it from you? What happens if I want a product that I don't see on your site at all?
Our goal is to make sure that you get the products you want at a great price. Whether you've seen something on another site or just have an idea for something that you can't find, our customer service team will research your needs and locate what you are looking for.
What happens after I place an order? Will I get to see a proof of what I'm ordering?
CampusMarketing.com will send you an email confirming your order and an artwork proof shortly thereafter. And before your order is placed into production, we will ask that you sign-off on your proof to insure that there are no errors on your art. Please ensure that there are no discrepancies your confirmation as well as all the details on your artwork proof. Please double check spelling, phone numbers, web and email addresses to insure accuracy before we go into actual production. Please keep in mind that production time begins once we receive your art/order approval back in our hands.
How soon will I receive my order?
Production time varies from product to product. Although in general, most items take between 7 to 10 business days. Please see individual product pages for information about each specific item. Keep in mind that many of our items can be rushed for a slight upcharge. Customer service can assist you with any special requests regarding rush requests.
How do I place a reorder with CampusMarketing.com?
Placing a reorder is easy. Just let us know in the Special Instruction section of your new order that we are to use the artwork from a previous order. If the item is the same one that you've ordered before and there are no changes to the artwork within the last 2 years, our customer service team will adjust your invoice to remove any screen charges that are no longer necessary. Please note that some items may require a Set-up fee for re-orders. Of course we'll get you complete pricing information prior to completion of your order.
I need something quickly. What should I do?
Rush Service is our specialty! Hundreds of items are available for rush production or expedited shipping to meet your in-hands date. Check our our 24-hour service items in addition to the Rush Service section on individual product pages. If you still can't find what you're looking for, don't hesitate to call us at 1-800-795-4267 and let our knowledgeable customer service team locate the right item for you!
What's the best way to place my order?
There are 3 easy ways to place your order with CampusMarketing.com. Each individual product page allow you to walk through a simple ordering accordion and answer a few questions to clarify what you are looking for. You may also print out our standard order form and fax it to our office. Once we receive the faxed form, we'll contact you directly to insure that we've got all the information we need and confirm your order. Finally, you can call our office at 1-800-795-4267 and place your order over the phone.
What is an overrun or underrun?
Overruns and underruns are terms used in the printing industry to talk about overages or shortages in a production run. We generally produce more items for each order than are necessary to safeguard against any ones that are damaged in production. On occasion, this lets us ship additional goods (an overrun) to you at no additional cost. In rare instances, there may be an underrun, or slight shortage if there happen to be too many misprints in the production. If there is an underrun we will gladly refund you the difference for goods you don't receive. Overruns and Underruns are limited to no more than 5% of the quantity ordered.
Are there other fees besides the cost of the item?
The base price for each item includes either a 1-color of Full-Color imprint (depending on the item,) but not the screen charge associated with the imprint. Additional colors or locations would also require an additional screen charge and a per-item running charge.
Can I order assorted product colors of the same item?
Of course you can!! As long as the imprint color can remain the same on the assortment of colors you select, choosing assorted colors is not a problem. Please indicate any special requirement you have in the Special instructions section when ordering.
Can you guarantee my in-hands date?
CampusMarketing.com works hard to make sure that you get your order when you want it! We are in constant contact with our production facilities all over the country to keep track of your order at each moment. We're proud to say that we have an over 99% success rate of getting your order to you even before you need it. And as much as we stand behind our production facilities, we cannot be responsible for delays in transit by third party shippers such as UPS or FedEx.
Do orders ever ship early?
Absolutely. Our production facilities try their best to ship orders out as soon as possible, even sometimes before our estimated ship date. If you are concerned about the timeline on an item, please noe that Rush Service is our specialty! Hundreds of items are available for rush production or expedited shipping to meet your in-hands date. Check our our 24-hour service items in addition to the Rush Service section on individual product pages. If you still can't find what you're looking for, don't hesitate to call us at 1-800-795-4267 and let our knowledgeable customer service team locate the right item for you!
Can I cancel my order after it is placed?
You are able to cancel your order depending on where it is in the production process. As long as your order is cancelled before we produce any goods for you, there will be no charge for the items themselves. However, you will be responsible for certain costs that may have taken place before actual production begins such as artwork creation, screen charges, etc. All cancellations need to be in writing. Please confirm receipt of any email or faxes that you send us regarding cancellations by calling our office at 1-800-795-4267.
What happens if my order comes damaged? Or I don't like my order once I've received it?
Our production facilities take great care in packing your order to insure that no items break on their way to you. However, at times there may be some damage in transit. Please notify us within 5 business days so that we can work with you to put in a claim to the shipper should this occur.
Payment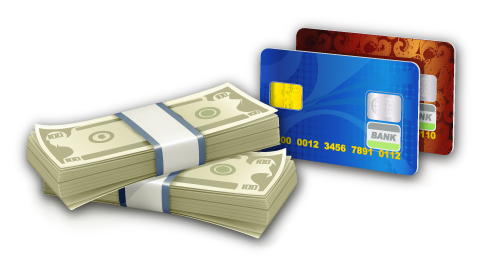 What forms of payment does Campusmarketing.com accept?
We accept payment in several forms to make it easy for you. All major credit cards are accepted: VISA, MaterCard, Discover, and American Express. Payment may also be made by company check, bank check, certified check or money order. And, with prior approval and credit check, purchase orders will also be accepted to facilitate the processing of an order. Please remember that we must have some type of payment or credit established prior to beginning production. All payment must be in USD.
When will my credit card be charged?
Although we ask for credit card information up-front, your credit card will only be charged once we receive final art/order approval from you.
Do you charge sales tax?
We collect all applicable taxes for good shipped to Indiana, Maryland, New Jersey, and Pennsylvania. If you are tax exempt, please provide customer service with your resale or tax-exempt certificate.
Custom Quotes
How can I get a quote? or Submit a RFP?
It's easy! Email us at customerservice@CampusMarketing.com or fax us at 503-542-8701 with your requests. You may also call us directly at 1-800-795-4267 and talk directly with one of our customer service team members. We also suggest that you call us after you email or fax to confirm receipt of your request.
Samples
How do I get a sample of a product that I'm interested in?
We'd be happy to get you a sample of many of our products so that you can evaluate whether the item is the right one for you. While most samples are Free, on occasion there may be a slight charge to you depending on the item. Most of our samples come from overruns from other customer's orders. Therefore, he samples that you receive will be a random sample with a generic imprint on it, and we cannot guarantee that we can get you a sample of a specific color of an item. Should you need a sample with YOUR imprint/Logo, please talk to customer service about coordinating this order for you. We reserve the right to decline sample requests that we feel are questionable or non-business related requests.
Shipping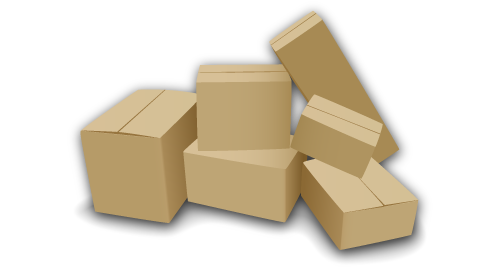 How does CampusMarketing.com ship your order?
Because the cost of shipping can vary greatly, we take great care in trying to find you the best shipping rates available. Most orders are shipped via UPS or FedEx Ground service. On occasion, we use various truck lines that offer better rates for larger/heavier orders. We also use UPS and FedEx Next Day and 2nd Day Air Service for orders that need to be expedited.
Do you ship internationally?
Of course we do! We currently serve many happy customers in Canada, Europe, Australia, New Zealand, and Latin and South America. Customer Service will help figure out the best method of shipping you order wherever you need your merchandise to go. Please keep in mind that you are responsible for any additional fees, taxes, or tariffs that may be associated with this shipment.